Does your charity or organisation need information leaflet design for digital and print leaflets – to inform service users and potential service users?
We've built up a good deal of experience in designing, producing and maintaining suites of information and service leaflets. We've designed those for many aspects of the care sector, including leaflets explaining services like hospice at home, inpatient units, a guide to our services and services for children and young people.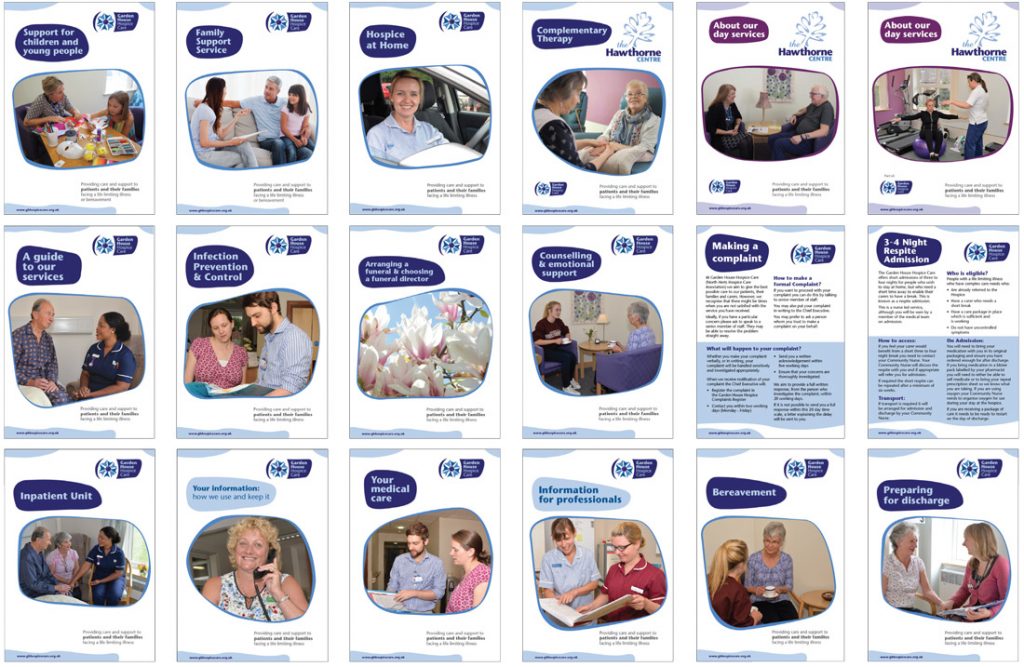 We've designed the style for suites of leaflets, taking into account whether particular leaflets needed to show small amounts of information – 2 page, 4 page, 6 page or more. A consistent style means that brands are instantly recognisable and look good together in a leaflet holder.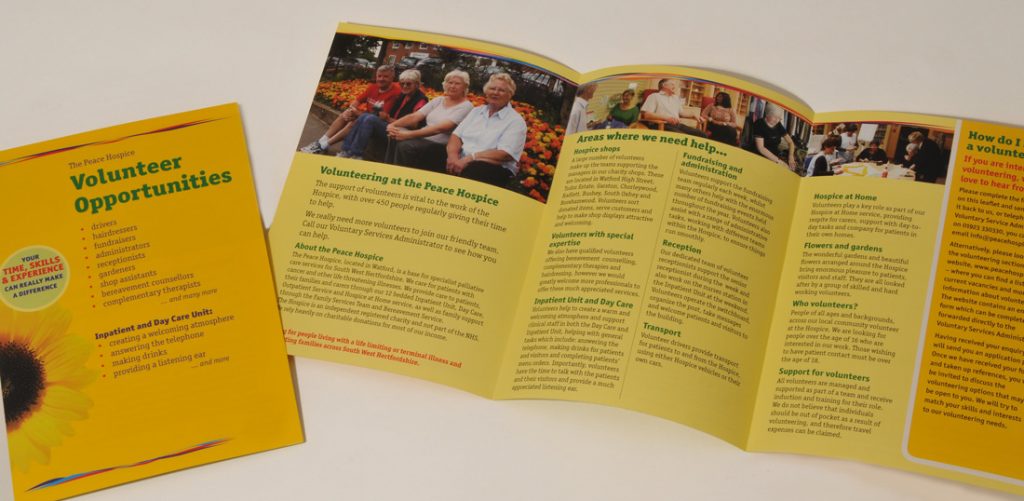 Leaflet changes and updates
When clients need changes we are pretty good at getting responding. We're happy to work with someone from the particular service, an administrator, or someone in a marketing or communications role.
Digital, email-able, printable & printed leaflets
Leaflets can be pretty helpful to service users and potential service users.
Some of the leaflets we design are only supplied digitally – usually in pdf format, sometimes also in jpg format. Printing is very flexible – we can do really short print-runs – as few as 100, or 250. We're also happy to pass on pdf artwork (Adobe Acrobat), if you have a printing company that you use. Here are some of the ways that leaflets can come in handy:
leaflets can be handed over and helpful during meetings with service users and future services users
as downloads from websites to accompany information on service pages
attached / sent on social media platforms
can be attached to emails to explain what will happen during an appointment – users could then print them or read them on their smartphones or computer if they wish
Leaflet holders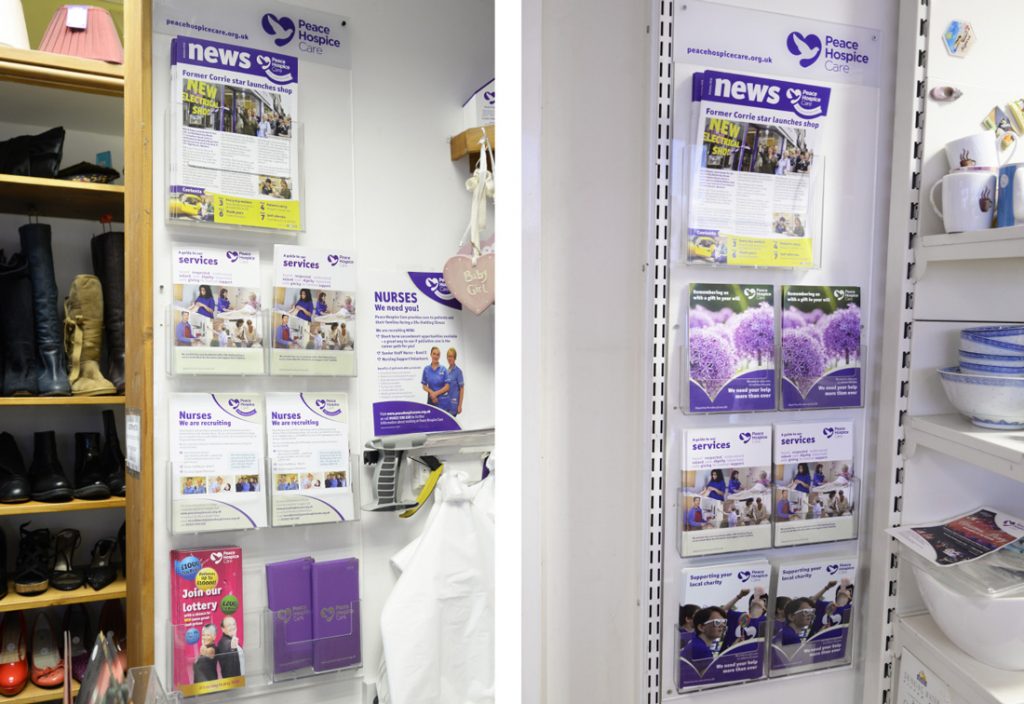 Leaflet holders designed and produced for Peace Hospice Care's Watford and South West Herts charity shops.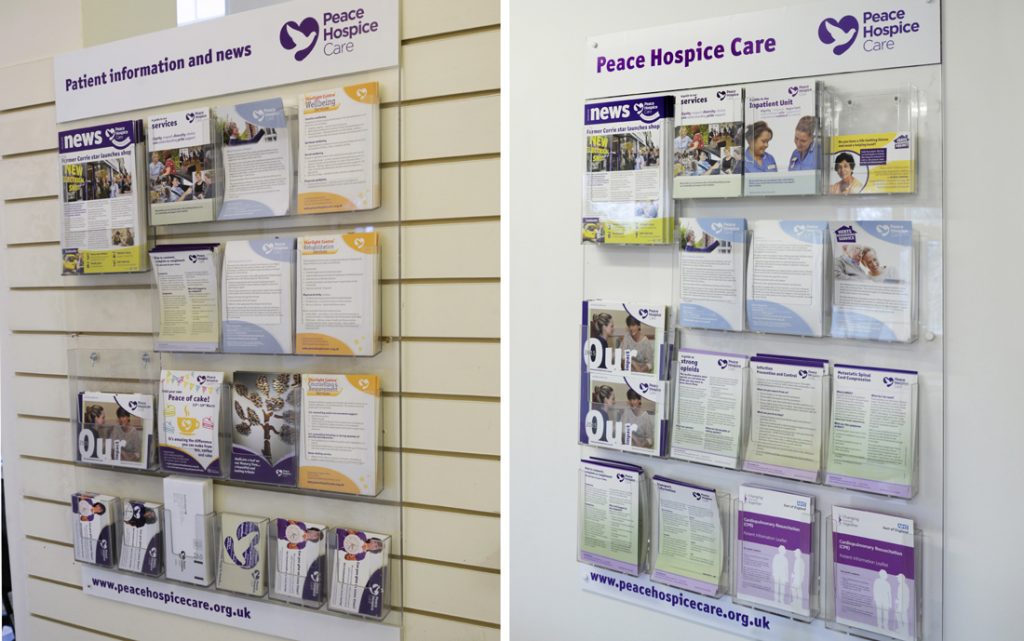 Leaflet holders designed and produced for reception areas and in corridors in Peace Hospice Care's main building in Watford, Herts.
Do you need a leaflet holder or a set of leaflet holders to display your leaflets? We've produced these for borough and district councils, hospices, and hospice shops. Each leaflet holder can be designed to fit with sizes and format of the leaflets used by each organisation. Maybe a combination of A5, DL (third A4) or A4 for a newsletter. Leaflet holders can be really narrow – possibly to fit into a small space in a charity shop, or really big if there are lots of leaflets to be accommodated.
Want to find out more about information leaflet design? Please get in contact with your questions and if you'd like to meet up.