We've done a lot of graphic design for charities, they've featured a lot in our graphic design work. Many have been really small – maybe with only two or three trustees, others have been a lot bigger – like hospices, some have been international, World Vision is reputed to be the biggest charity in the world.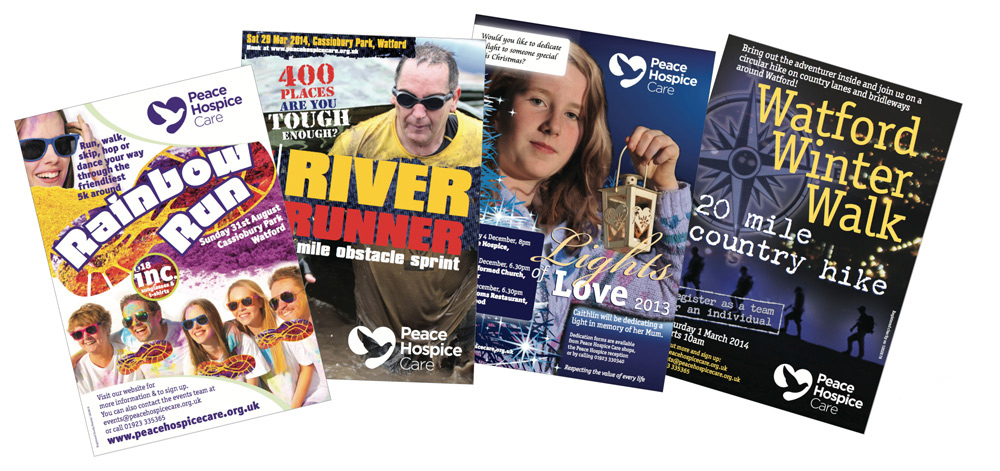 Leaflet design for Peace Hospice Care – a Watford charity offering palliative care in Watford and South West Herts. The leaflets were part of promotions for events:
Rainbow Run – featuring lots of powered paint thrown over the runners during the run
River Runner, an obstacle sprint including running through parts of the Gade river in Watford's Cassiobury Park
Lights of Love, a Christmas remembrance service for relatives
Watford Winter Walk, a 20 mile country hike around the perimeter of Watford
Here are some of the the charities we've worked for – and still work for:
Charities
Eagles Wings
Red Trust Bushey (a charity serving children and young people in Bushey, Herts)
StARR (Romanian children's charity)
Street Angels (Watford, Herts)
Thames21 (improving and maintaining the cleanliness of the Thames and it's tributaries)
Watford Blind Centre (serving blind and partially sighted people in the Watford area)
Wicked Genes
World Vision, Milton Keynes, work on various campaigns and internal marketing and training
WTCC (Watford Town Chaplaincy)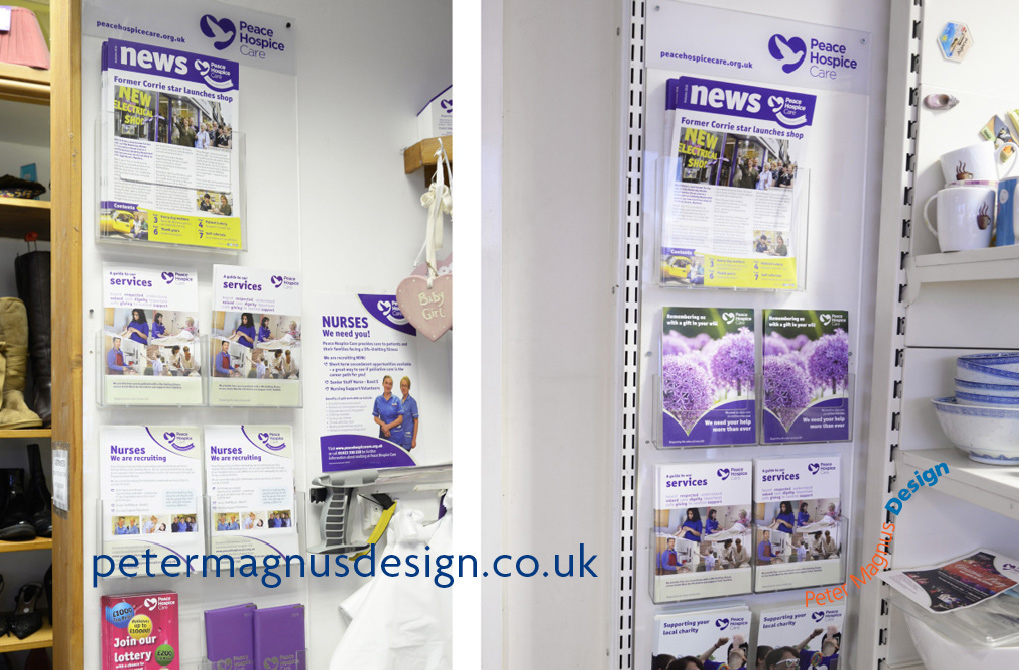 Hospices
Garden House Hospice, Letchworth Garden City
North Devon Hospice, Barnstaple
Peace Hospice Care, Watford, Herts
St Francis Hospice, Berkhamsted
Churches
Ark (The Ark), Bedmond / Watford
Bushey Baptist Church
Mango Ministries
Oceans Church (Bude, Cornwall)
St Luke's Church, Watford
St Paul's Langleybury, Kings Langley, Herts
Watford Borough Council events
Arts and entertainment (not business)
Government / councils
Dacorum Borough Council
East Herts District Council
Herts County Council
Watford Borough Council
Recruitment and training
World Vision, internal marketing and training
Need graphic design for charities?
We've get experience in graphic design for charities – and we're always keen to learn new things about how charities work and what they're doing – whether is's fundraising, websites or things like service leaflets.