We are very keen on clients and potential clients asking questions about our services and graphic design. We want people to be confident in our service and clear about how things work. We've also got a website design questions page. Here are some questions that clients and prospective clients often ask about graphic design and our services. Please contact us with any other questions.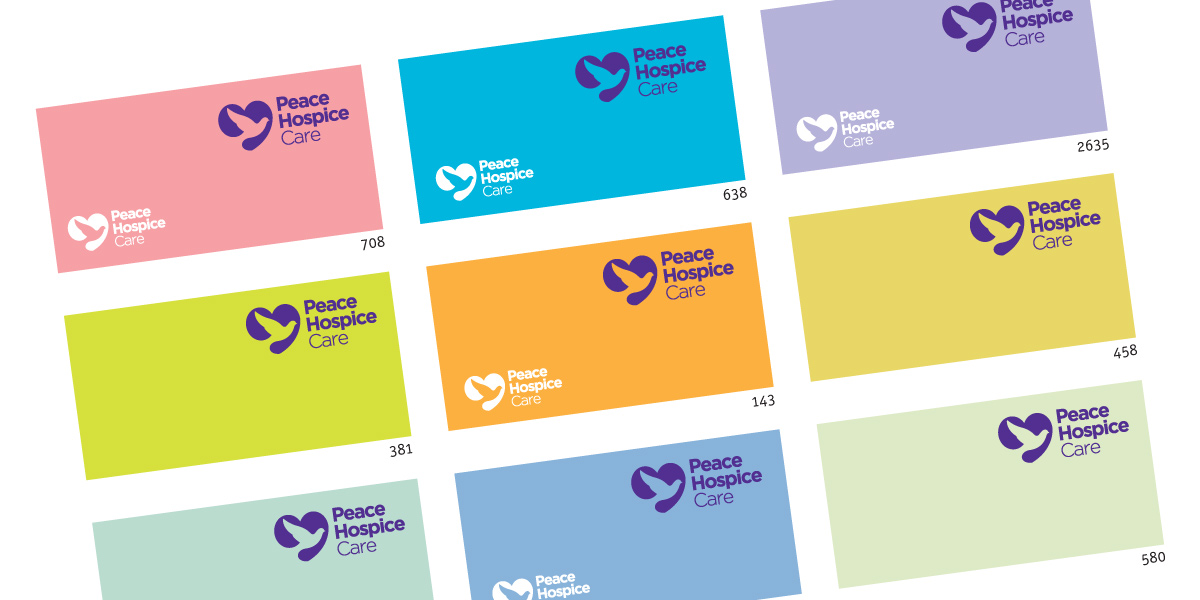 The graphic above shows colours for the brand design that we developed for Watford's Peace Hospice Care. You can read more more about their brand design here.
I have particular colours that I'd like to use for my design – can you work that way?
Yes. Normally I come up with colour options for logos, identities and designs, but we're really pleased to work with clients if they have particular preferences.
I've got a printer that I use, can you still do the design work for me?
Yes, we're happy to work in the way that's best for you. We always give you a design price and if there's printing or other production that's needed, we'll separate the different parts of the price.
I need more business, can you help with ideas?
I have a great deal of experience in promoting businesses, using various different methods. I would be very happy to discuss possible options.
Can you advise me about what items I should have (flyers, social media graphics, adverts etc)?
We can give you advice at to what may be the best way to promote your service or product.
Here's the Peter Magnus Design reviews page – where you can see what some clients have written about us.
I am working to a tight marketing and design budget, how can you help?
We always make suggestions on how clients can make their money go as far as possible (it comes naturally for a Scot / Shetland man!). If you've got a budget to stick to, we'll do as much as possible within the money you can commit.
What formats do you use for logos?
Typical formats for logos are jpg and pdf.
jpg for Microsoft Word, Powerpoint, web & social media
pdf for production items like printing, vehicle signs and garments
if people want eps, we can send that too – most people are happy with pdf
if clients or their suppliers want another format, such as png or Photoshop native, or specific CAD or vector formats we're happy to supply that too
How do you supply logos?
Normally we'd send logos by email, we're also happy to send them on WhatsApp or Facebook Messenger if that's better for clients – or bring along a memory stick.
Can I pay for my design work in instalments?
We are very happy to work in any way that is best for you.
How do clients pay you?
Clients pay by bank transfer, credit card, cheques or cash – whatever is best for each client.
How can you make my business stand out from my competition?
We will work with you to come up with what makes your business special, we'll then work to come up with a distinctive, attractive and professional design.
Have you got other graphic design questions?
You may well have other graphic design questions, and questions about our service – you're always welcome to get in contact.
John's details are 0777 999 1551 or john@petermagnusdesign.co.uk.
How do I get photography for my graphic design?
Here's the main ways that clients get photographs done:
you can take photos
we can offer possible stock photographs
you can get professional photos taken – our sister company Watford Photographers does this
You're very welcome to contact us with photography questions, we can advise you on costs for photos and photography too.
You can also see our website design questions page here.